Calgary MG Car Club
Appreciation of classic British cars

The Annual Christmas Party and Awards Banquet to be held December 8, 2023 at the Danish Canadian Club, 727 11th Ave.S.W., Calgary, AB T2R 0E3. Dinner is served at 7pm, and there will be a cash bar, so please arrive between 6pm and 7pm for cocktails and a natter, prior to sitting down.
Starters: Chef's creation of 5 selected fine salads.
Main Course: Baked Turkey Breast, young and tender, served with raisin celery stuffing and a dollop of cranberry sauce.
Dessert: Lemon soufflé served with a sweet cherry topping (comes highly recommended by the manager)
We will be collecting donations for the Veterans Food Bank, they have advised that if possible cash donations are preferred.
Also, after dinner and the awards presentations we are planning to play a couple of traditional Christmas games, with a fun twist. For this we need everyone attending to bring along a wrapped gift of nominal value (no more than $10) for a Secret Santa event. The gift does not have to be newly bought, in fact we are encouraging the re-cycling and re-gifting of not-so-much-loved gifts, or any old thing you have knocking around which someone else might "appreciate". The more unusual or esoteric the better, as the main object is to have some fun. And if it is MG related, all the better!
The Calgary MG Car Club was started in 1979 and exists for its members and for the purpose of enhancing the MG British style of motoring, and the preservation of the MG marque. We proudly support - and have members involved in - both the
Specialty Vehicle Association of Alberta (SVAA)
and the
North American MGB Register
(and respective Registers for
MGA
and
T-Series
). If you're not already a member of a register, please take a minute to read through
one of our member's thoughts
on the value. You can read more about our club history
here
.
Newsletters
The Calgary MG Car Club occasionally publishes newsletters for our members and friends.
You can find back issues
here
, and the current issue here: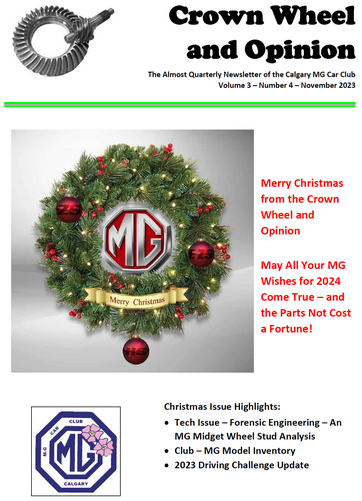 The latest information on Calgary MG Car Club events is always in our club calendar. To have events added - or if you have any questions - please contact us
via email
If you need help with your car-related problems, our club members can provide a wealth of information. If you own a MG or other sports car (or even if you wished you did) and are looking for ways to learn more about your car, or just want to meet more MG owners, come out and join us! Membership is NOT required to initially come out to meet us at an event or club meeting, but we bet you'll end up enjoying our crew and events, so....
Note that you may leave the spouse / partner field blank, but if you do have one we hope you will share their name with us.
You may also
click here for a PDF of our membership form
Send the application form, along with your cheque, to:
Calgary MG Car Club
Westbrooke R.P.O. - Box 34101 Calgary Alberta T3C 3W2
Thanks for your interest, and we hope to see you soon.
Contact Us
If you have any questions you can contact us
via email
, or via via regular postal mail at:
Calgary MG Car Club
Westbrooke R.P.O. - Box 34101
Calgary Alberta
T3C 3W2
Calgary MG Car Club Online