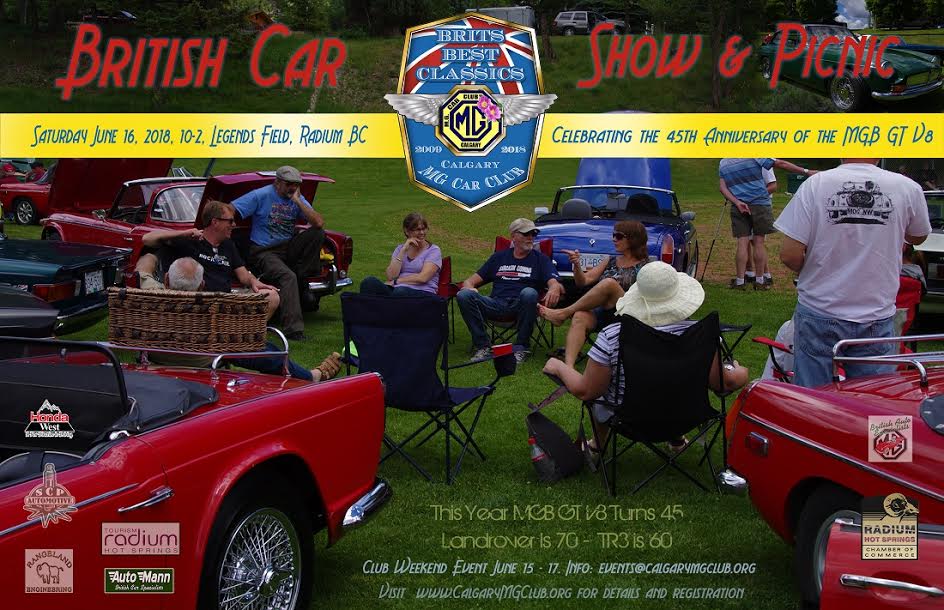 The Calgary MG Car Club will return to Radium Hot Springs B.C once again from Friday June 15 thru Sunday June 17 for the 10th edition of BritsBest Classics. Each year in June our club calls on all British car and bike enthusiasts to join us for BritsBest Classics, our annual celebration of all things automotive and British.
The picnic theme of the 2017 event will be featured once again, (as will another Morris Calvert Memorial Rally) the featured marques will be the MGB GTV8 (celebrating its 45th anniversary in 2018) and the TR3 (60!).  The car show will be held in the same area at Legends Field on Saturday, with cars arranged in "picnic circles" and the "best in show" again determined by "donation".  We raised $600 for local youth programmes in this way in 2017, and they will once again be the beneficiary in 2018. 
Our host hotel properties will be the Crystal Springs Motel and Village Country Inn, which will be completely blocked for our guests. Reservations will only be accepted once your entry for the event is confirmed, so please do not contact the hotels to book, before you have a confirmation number to give them. 
Please mark your calendars for the Father's Day weekend in Radium Hot Springs, and keep an eye on the 
BritsBest 2018 thread on the Club forum at the MGExperience
for the latest news and updates.  On-line registration will be available soon. 
We look forward to seeing you in Radium Hot Springs in June!
BritsBest Classics Committee
Calgary MG Car Club Online