Calgary MG Car Club
BritsBest Classics Registration is now open!
[Main Calgary MG Club Page with Calendar etc is HERE]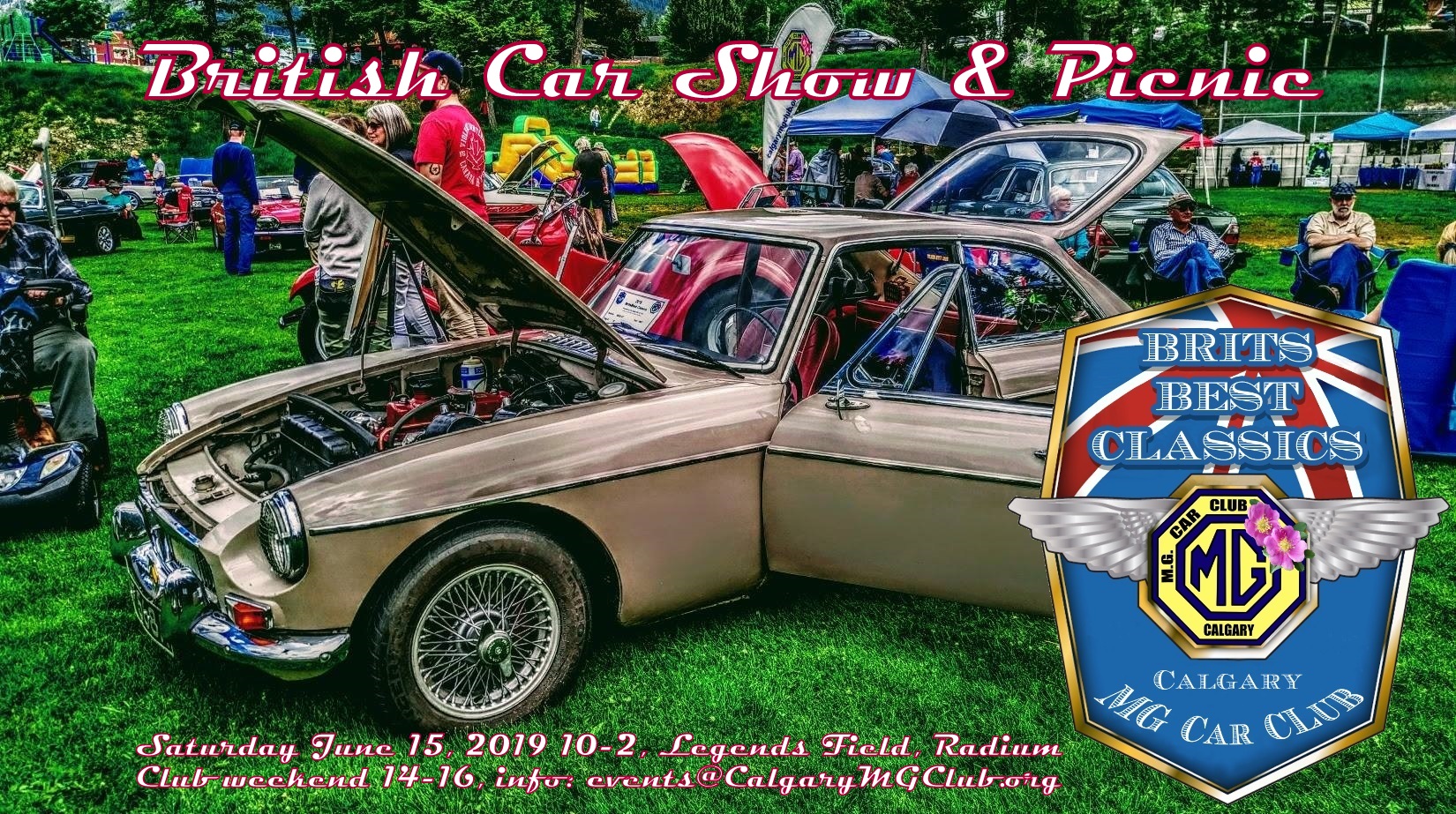 The Calgary MG Car Club will return to Radium Hot Springs B.C once again from Friday June 14 thru Sunday June 16 for BritsBest Classics!
The picnic theme will be featured once again, as will another Morris Calvert Memorial Rally.
A car that signalled a quantum change in automotive design was first introduced 60 years ago, in 1959 the iconic Austin Mini7 / Morris Mini Minor... more commonly known and referred to as "Mini" was brought to market by the British Motor Corporation. Other significant 60ths include Jaguar's MkII, Mk IX, the first Austin Healey 3000, BMC's Farina Saloons (Austin, Morris, MG, Riley and Wolseley variants), and the Triumph Herald. Once again, the car show will be held at Legends Field on Saturday with cars arranged in "picnic circles", and the "best in show" again determined by "donation".
We raised over $1000 for local youth programmes at Edgewater Elementary School in this way in 2018, and they will once again be the beneficiaries in 2019.
Friday evening will be an informal social at the Crystal Springs Motel. The lawn area and gazebo have bbqs available for self-catering: bring a hot dog, burger or steak to cook-up on site... our club will provide complimentary soft drinks and chips/nuts etc. It's a great way to hang out and talk tech or tell stories around our parked cars! Saturday is the car show, rally, and meal at the new Radium Hot Springs Centre community hall, with food catered by the local Horsethief Pub (see below for respective signups).
Please mark your calendars for the Father's Day weekend in Radium Hot Springs, and keep an eye on the
BritsBest 2019 thread on the Club forum at the MGExperience
for the latest news and updates.
Advance Registration will close on May 31st for catering. Registrations received after that date will still be accepted, but will exclude entrants from catered events.
We look forward to seeing you in Radium Hot Springs in June!
Vehicle Registration
Note:
If you are registering two or more vehicles, please add each additional vehicle to your cart separately, so we can capture the information for each vehicle.
The Friday evening event is free and hosted by the club this year. Soft drinks and light snacks will be provided, please BYOB if adult beverages are preferred. Although the Friday event is free, please let us know how many people from your party plan to attend to assist us in planning.
Vehicle Registration - First Vehicle $30
Evening Events
Saturday night meal - $40.00 per person taxes and gratuities included.
Note:
Please add tickets for each person to your cart separately, so we can capture name and dietary information for everyone.
Vehicle Registration - Additional Vehicle(s) $15 Each
Note:
If you are registering two or more vehicles, please add each additional vehicle to your cart separately, so we can capture the information for each vehicle.
If you prefer a paper registration, you can download the registration form
here
.
Our host motel property will be the Crystal Springs Motel, which will be blocked for our guests. A special BritsBest 2019 room rate from $94 + tax per night has been arranged. Please note that a two night minimum stay is required. Room rates include a hot breakfast each morning, but there will be no maid service during your stay. As not all the rooms are exactly the same people may want to take a look at what is available when booking.
Reservations will require a confirmation code which we will send you once your registration has been processed
(this may take up to 24 hours - your patience is greatly appreciated)
. Please do not try and book a room before you have the confirmation code. Note that this code has not been setup on their website for online registrations -
BBC2019 registrations have to be done via phone or email to make use of the code
.
Crystal Springs Motel
http://crystalspringsmotel.bc.ca
1 800 347 9759
Contact Us
If you have any questions you can contact us
via email
, or via via regular postal mail at:
Calgary MG Car Club
Westbrooke R.P.O. - Box 34101
Calgary Alberta
T3C 3W2
Calgary MG Car Club Online